Welcome to Yuko's Perfumed Garden!
First of all, please allow me to say that I love to eat! To eat well I cultivate a vegetable garden and fruit trees. To keep them organic, I raise chickens. Chickens? (I know you're chuckling -- aren't you?) My mother always said that a chicken's brain is so small that within walking three steps they forget everything. They are definitely not of Mensa quality, even in the animal kingdom. But they are great pals to me. They produce much-needed enrichment for my garden, and the roosters wake me up every morning, 365 days a year and without batteries. The hens are always in a chatty mood, but they'll also complain bitterly if their dinner is later than anticipated. With their eggs, I bake bread, cakes, and pies. Occasionally, they ransack the garden and the berry bushes when they get bored in the grazing pen. Believe it or not, young hens can fly like an eagle.
I live on the Canadian Mississippi River. If Tom Sawyer and his gang went to Jackson's Island, I go to Snake Island. (The real name is Arklan Island, but many locals call it Snake Island because of the brown watersnakes by the shore.) I love quiet summer evenings and fishing alone on the Mississippi, even if I have to wear the darn mosquito net. I am happiest when I have a moment of being an instant philosopher by my reel.
Being buried under the snow half of the year, I read. Besides Chinese Classic literature (Dream of the Red Chember) and Arabian literature (A Thousand and One Nights, the Sir Richard Francis Burton version), my favourite writers are: Margaret Laurence, Han Suyin, Simone de Beauvoir, Mordecai Richler, and Norman Mailer. I am also interested in Modern History of Asia (particularly China) in military matters. That where Han Suyin's books come in handy.
When I am not in the garden, on the river or chatting with the hens, I am most likely in front of the computer. My favourite motto is one I found on the main street of Carleton Place: "Business is Great, People are Fun, Life is Beautiful." Have a happy day, folks!
E-mail me at: yuko@yuko.ca.
I will be hosting my Seventh Annual Heirloom Tomato and Perennial Plant Sale on May 10, 11, 17 and 18, 2008. If you're in Ottawa or the Valley, please come and browse through the unusual seedings I will have for sale! Please download the flyer and e-mail me for further information.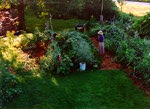 The perfumed garden.
(Click image to enlarge.)